Donate Here to Fund a Cure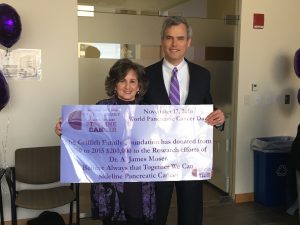 To date, the Greg and Cathy Griffith Family Foundation has given $295,000 to support the Pancreatic Cancer research of Dr. Moser!
Donations to our organization also help fund the Beth Israel Deaconess Medical Center's Pancreatic Disease Registry and Biorepository
Click on the GuideStar logo to learn more about our Platinum rating.
Your contribution will help bring us one step closer to FUNDING a cure for pancreatic cancer.
If you have a donation you would like to mail to us, please make your check payable to
"Sideline Cancer"
and mail it to:
The Griffith Family Foundation
P.O. Box 28
Hollidaysburg, PA 16648
If you would like to make a donation online, please use the form below:
The Greg and Cathy Griffith Family Foundation is recognized as a 501(c)(3) non-profit organization incorporated in the State of Pennsylvania.