Donate Here to Fund a Cure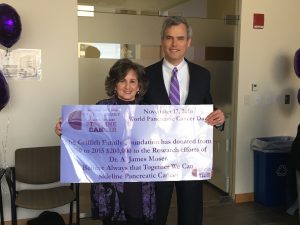 To date, the Greg and Cathy Griffith Family Foundation has raised and donated more than $300,000 to support pancreatic cancer patients and research!
Donations to our organization also help fund the Beth Israel Deaconess Medical Center's Pancreatic Disease Registry and Biorepository
Click on the GuideStar logo to learn more about our Platinum rating.
Our Impact Report provides a comprehensive overview of the reach and impact made by the Griffith Family Foundation and Sideline Cancer from 2010 through 2021.
Your contribution will help bring us one step closer to FUNDING a cure for pancreatic cancer.
If you have a donation you would like to mail to us, please make your check payable to:
"Sideline Cancer"
and mail it to:
The Griffith Family Foundation
P.O. Box 28
Hollidaysburg, PA 16648
If you would like to make a donation online, please use this form:
If you want to notify someone about this gift, please leave YOUR email in the box indicated and an acknowledgment of your donation will be sent to the family by the Griffith Family Foundation.
The Greg and Cathy Griffith Family Foundation is recognized as a 501(c)(3) non-profit organization incorporated in the State of Pennsylvania.
If you're experiencing any difficulty with this donation form, please call Cathy Griffith at (814) 937-1082.
PURCHASE SIDELINE CANCER® MERCHANDISE
16000 T-Shirts Sold from 2012 – 2020
Proceeds go to fund research, awareness, and advocacy to take pancreatic cancer off the sideline and to the finish line for a cure!
Note: Due to COVID-19, we have had to alter how we produce and distribute our t-shirts. Our Sideline Cancer t-shirts are still available, however orders may be delayed 6 – 8 weeks for processing and delivery.